This is a list of Coaches I believe should be on Dave Hart's list to look at as UT's next head coach.  I don't have any inside information on who they could be looking at, this is just who I believe should be considered to be Tennessee's next Head Football Coach. 
David Cutcliffe (Duke Head Coach, 2008 – Present)
David Cutcliffe has a long history with UT.  He started with UT in 1982 as an Assistant Coach, eventually working his way up the ranks to Offensive Coordinator in 1993.  He left UT after the SEC Championship Game in 1998 to take the Head Coaching position at Ole Miss.  While at Ole Miss, he led the Rebels to a 44-29 record and 4 Bowl Appearances in 6 seasons.  He returned to UT for the 2006 and 2007 seasons as Offensive Coordinator before landing the Head Coaching position at Duke University.  His Blue Devils currently sit at 6-2 in 2012 and are bowl eligible for the first time since 1994.  As Quarterbacks/Head Coach he has tutored future NFL Quarterbacks Peyton Manning, Eli Manning, Heath Shuler, Erik Ainge and Thaddeus Lewis.
Pat Fitzgerald (Northwestern Head Coach, 2006 – Present)
Northwestern's current Head Coach Pat Fitzgerald has done a great job at a school where it's traditionally difficult to mix athletics and academics.  Kind of like coaching at Vanderbilt.  Fitzgerald took over at NU after the untimely death of Randy Walker.  He has led the Wildcats to a 46-37 record and has NU bowl eligible for the 6th straight season.  He has led the Wildcats to 4 straight bowl appearances.
Jon Gruden (Former Tampa Bay Buccaneers and Oakland Raiders Head Coach)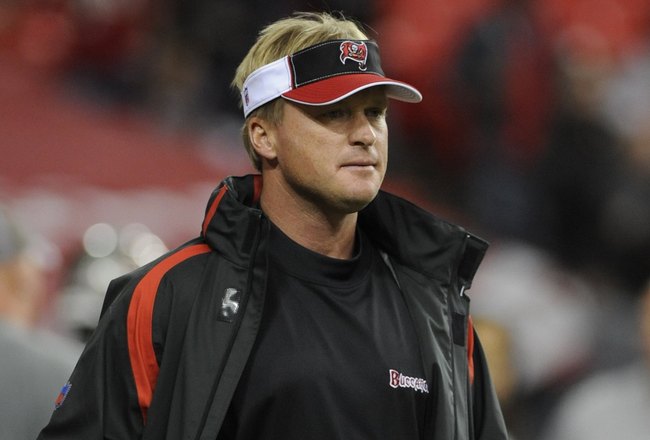 The current Monday Night Football analyst and former Head Coach of the Bucs and Raiders in the NFL has Tennessee ties.  His wife and her family are from East Tennessee and Gruden was a Graduate Assistant at UT under Johnny Majors.  Gruden would instantly reenergize a program that is quickly becoming irrelevant on a regional scene.  It's national luster is all but gone.  Gruden's name alone would draw the top talent to Knoxville.  Gruden is a must on the Vols list.
Kirby Smart (Alabama Defensive Coordinator, 2007 – Present)
The current Defensive Coordinator at Alabama since 2007 and has been at the helm of defenses that have helped lead Alabama to 2 National Championships in the past 3 seasons.  Alabama's defense led the nation in 5 different categories in 2011 including Total Defense, Scoring Defense, Rushing Defense, Passing Defense and Pass Efficiency Defense.  He's a young coach with a great background that would be a good hire for the Vols.
Charlie Strong (Louisville Head Coach, 2010 – Present)
Charlie Strong will be a hot commodity this off-season.  Strong has turned around a floundering Louisville program.  Strong currently has the Cardinals sitting at 7-0 on the 2012 season and in contention to win the Big East.  Strong has posted a record of 21-12 during his time at Louisville with 2 straight bowl appearances.  Before Louisville, Strong was the Defensive Coordinator at Florida from 2002 – 2009.  He was also DC under Lou Holtz at South Carolina from 1999-2001.  He has developed seven first-round NFL Draft picks and 18 players that were selected in the third round or higher.